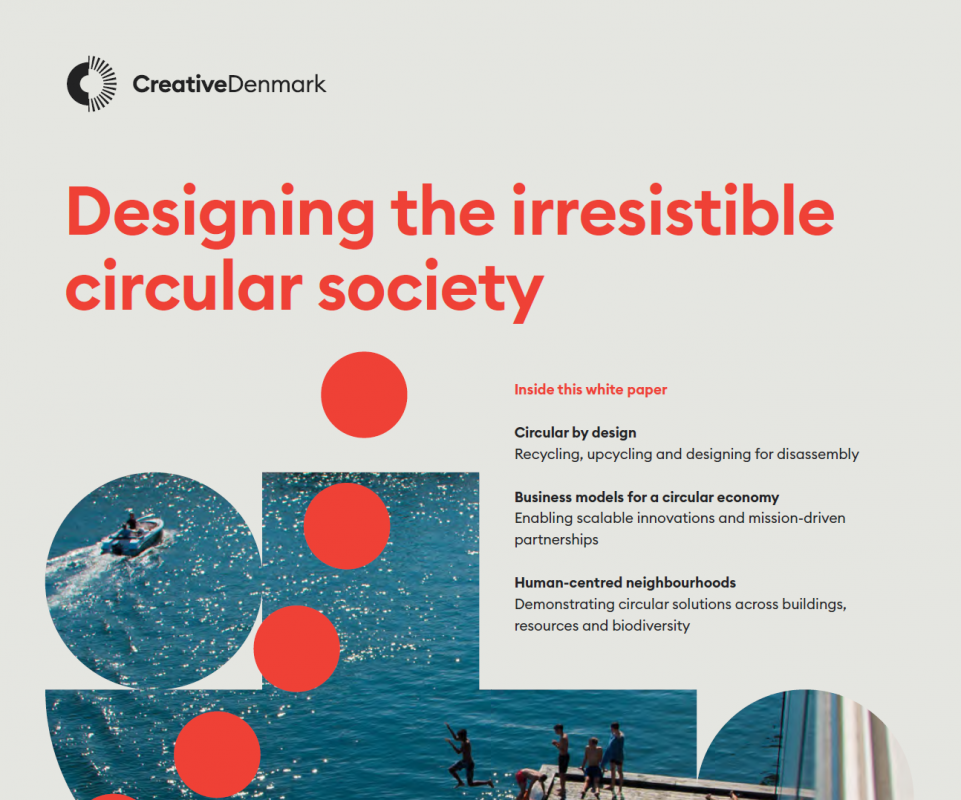 https://danskdesigncenter.dk/en/designing-our-circular-future
"Imagine it is the year 2050 and you live in a world that has realised a circular society. We now understand that everything – living and non-living – is connected.
We own nothing. We rent, share and barter the things we need with others in our immediate environment. It is unthinkable for you to throw anything away. There is no trash. None.
Nature is the ultimate stakeholder. We all recognise the intelligence and integrity of Nature (yes, we spell it with capital "N"). We listen to Nature. Fossil fuels are illegal.
Cars have vanished from cities. For long rides, they use electric caravans powered by renewable energy.
The marginalised voices and communities are now heard. Life is simple. Your city inspires you to live in balance with art, music, nature, dialogue, pauses, space to breathe.
If you can imagine it, you can design it
This story of a circular society may sound utopian, perhaps even naive. Maybe it sounds like a dream. But it is a fundamental truth in our world that the future must be imagined before it can be created. That is the power of design. Or, more precisely, that is the power of speculative design that thrives on imagination and aims to open up new perspectives on the wicked problems of our time."
Christian Bason – CEO, Danish Design Centre
From linear to circular
Globally, resource extraction and processing account for 90% of biodiversity loss and water stress, and the production and consumption of materials account for almost half of global greenhouse gas emissions. In other words, conventional mitigation strategies such as switching to renewable energy and
enhancing energy efficiency will only bring us halfway to carbon neutrality in 2050.
Design is a key factor when it comes to delivering the sustainable growth of the future. Around 80% of a product's environmental footprint is locked in at the design phase – if not more.
The passion game
The real triggers for a successful circular economy are found in the creative, innovative and passionate enablers.
We need to organise everyone to join the discussions, commit, collaborate and execute. Supporting this type of mission-driven partnership across sectors is a key motivation for BLOXHUB: to create a platform for unlocking joint innovations that can develop scalable circular solutions. Here, designers, tech startups and architects work closely, creatively and respectfully together with policy makers and investors.
Employing Design for Disassembly as a key principle
In collaboration with In Futurum and the Danish Design Centre, Tom Rossau and his company have developed three new solutions to reduce their carbon emissions through circular principles that will be implemented in the business:
• A flat-pack product that reduces packaging waste by up to 80%
• A cleaning kit to prolong the lifespan of products
• Design for Disassembly principles that make it possible to repair lamps at
home, minimising the need for return transport, extending a product's lifespan and allowing the disassembled lamp a new afterlife
REFLOW is an EU Horizon 2020 project coordinated by Copenhagen Business
School.
REFLOW unites 28 European multi-disciplinary partners to co-create circular and regenerative cities, bridging the gap between private and public institutions, academia and the maker movement.
The project is guided by the REFLOW vision of a circular and regenerative
city, represented as an urban system with social and business practices
which place equal attention to social, environmental and economic impact.
Here:
• Technology is open source and represents a central enabler of positive
social and environmental change
• The urban system ensures and supports the resilience of social and
ecological systems
• Governance is collaborative and inclusive
• Knowledge is shared, and stakeholders are active and involved
Changing human behaviour means challenging existing behaviour
How does a reused product appeal positively to the emotions of the consumer? How is the consumer socially rewarded for lending, sharing or repairing a product? And how can we redesign everyday life, so that the circular choice is easier, more intuitive – or even irresistible?
Design offers concrete tools such as field research, personas, prototyping, scenario building and co-design, which allows us to understand and deeply engage both the explicit and unspoken needs of people. Building on these, triggers and design incentives that can spur new sustainable practices and norms can be identified.
While every individual can have their personal reasons to give their contribution to a sustainable and circular society, managing behavioural change should never be solely an individual responsibility. Changing behaviour
remains a hard challenge, but through the collective effort of ambitious companies, organisations, public bodies and civic society, individual change can be turned into collective action.